COMPANY OVERVIEW
WHY E-SPA
E-SPA is a strategic business partnership reflecting the common mission of both companies to support U.S. national security's most challenging and complex technical and operational requirements. With a combined 69 years of defense support experience, E-SPA leverages its assets and significant technical capabilities to solve complex and evolving DoD RDT&E needs and interests.
WHO WE SERVE
E-SPA is available to DoD and U.S. Government agencies at all levels (Federal, State, and Local).
About Us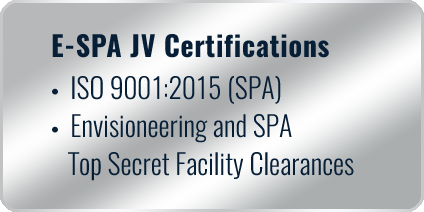 Founded in 2017, Envisioneering, Inc. and Systems Planning and Analysis, Inc. are the venturing partners, with over 69 years of combined defense support experience, headquartered in the National Capital Region. Under the E-SPA Joint Venture, the company and their business partners will provide essential services to the DoD in the areas of Defense Systems, Homeland Defense, Cyber Security, and Research and Development services to the DoD in the areas of Defense Systems, Homeland Defense, Cyber Security and Information Systems.
Envisioneering, Inc. is a small business (SB) dedicated to mission support and technology development across a broad portfolio of defense-related services, including advanced electronic warfare, ordnance logistics, lab services, and Army Aviation. Since 1993, Envisioneering has provided highly specialized scientific and engineering services to further the Navy's development of tactical electronic warfare systems, directed energy countermeasures, and modelling and simulation of electronic warfare capabilities for Navy ships.
Systems Planning and Analysis, Inc. provides timely and objective analysis and integrated technical, operational, programmatic, policy, and business solutions in support of important national objectives. Our employees have expertise in an array of domains including: Air, Surface, and Undersea Warfare and Operations, Nuclear Deterrence, Safety, and Security, Radar and Sensor Systems, Ballistic Missile Systems, Integrated Air and Missile Defense, Department of Defense Acquisition Processes, Intelligence, Surveillance, and Reconnaissance Systems, Unmanned Systems, Space Systems, Improvised Threats and Analytic Software Development.